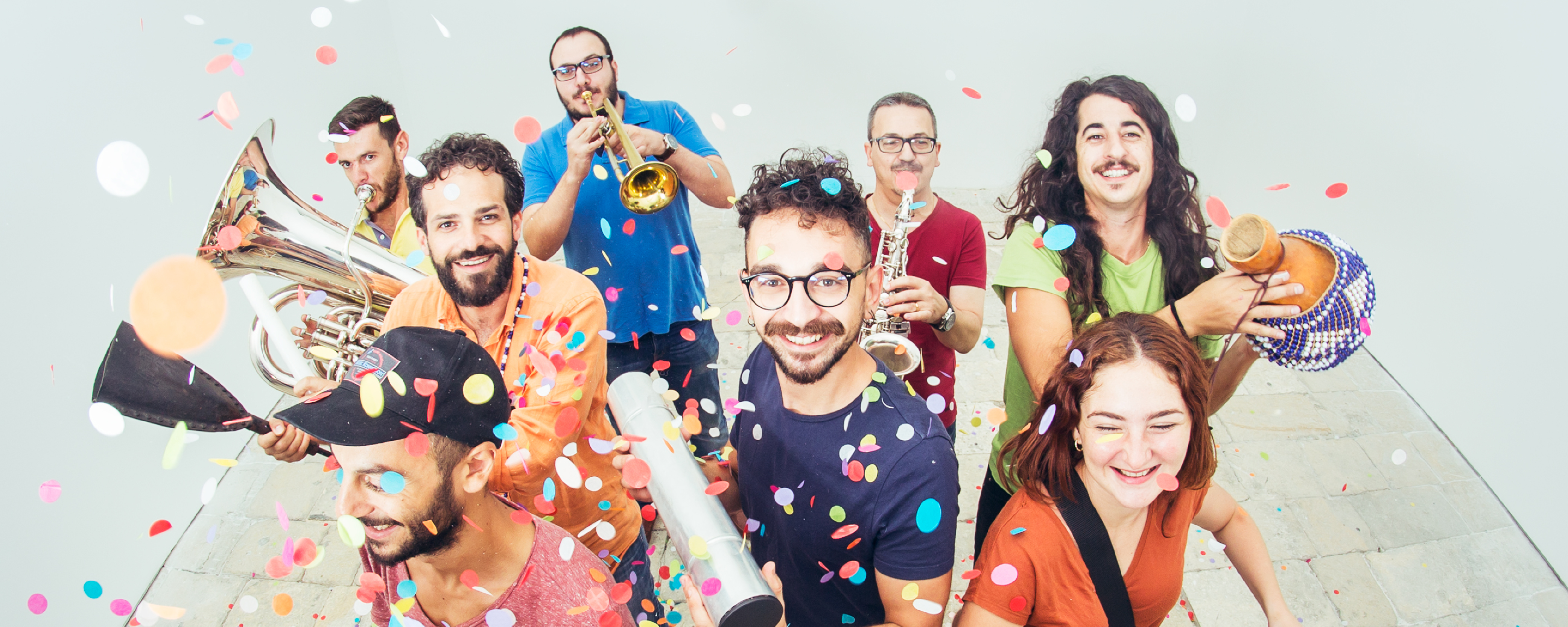 Barra bid-Daqq
Perkuss'hawn Maracatu & KażinSka
Roaming Percussion & Brass Band/Maltese/Various (Valletta)
Duration 35
 mins
Friday 16th November, 9am
Saturday 17th November, 11:30am
Tuesday 20th November, 6pm
Thursday 22nd November, 6pm
Sunday 25th November, 6pm
We've got rhythm! Join local musical groups Perkuss'hawnMaracatu (a Maltese performing group of the Brazilian Maracatu genre) and KażinSka (a band mostly known for the joyous atmosphere and upbeat arrangements of Maltese feast songs) as they give new life to a selection of songs from 'Għanijiet it-Tfal'. These songs were first published in 1989 by song-writer and educator Mary Anne Żammit, so this is your chance to revisit them in a whole new style and to hear the new tune written for ŻIGUŻAJG – Il-Parata!
No booking needed for this event.
Ingħaqad mal-gruppi mużikali lokali Perkuss'hawnMaracatu (grupp performattiv tal-ġeneru Maracatu Brażiljan) u KażinSka (banda magħrufa l-aktar għall-atmosfera ferriħija u għall-arranġamenti tad-diski tal-festi Maltin tagħhom) hekk kif jagħtu ħajja ġdida lil għażla ta' diski minn 'Għanijiet it-Tfal'. Dawn id-diski nħarġu għall-ewwel darba mill-kittieba tad-diski u l-għalliema Mary Anne Żammit, allura dan hu ċ-ċans tiegħek biex tgħixhom għal darb'oħra fi stil kompletament ġdid u biex tisma d-diska l-ġdida miktuba b'mod speċjali għal ŻiguŻajg – Il-Parata! Ingħaqad mar-ritmu!
M'hemmx bżonn ta' riżervazzjoni għal dan l-avveniment. 
Credits:
Ensemble leader/Gonguê: Michael Galea
Voice/Megaphone/Ganza: Justin Galea
Trumpet: Mark Farrugia
Trombone: Joseph Borg
Tuba: Karl Pullicino
Saxophone: Mario Borg
Caixa: Joseph Camilleri
Alfaia: Alvaro Gomes Ferreira
Alfaia: Aaron Sammut
Alfaia: Mariele Zammit
Alfaia: Luke Briffa
Ganza: Elton Grech
Agbê: Francesca Galea
Il-Parata Song: Mary Anne Żammit & Perkuss'hawn Maracatu
Il-Parata Musical Director: Michael Galea
Il-Parata Brass Arrangements: Mark Farrugia
Il-Parata Musicians: Perkuss'hawn Maracatu & KażinSka